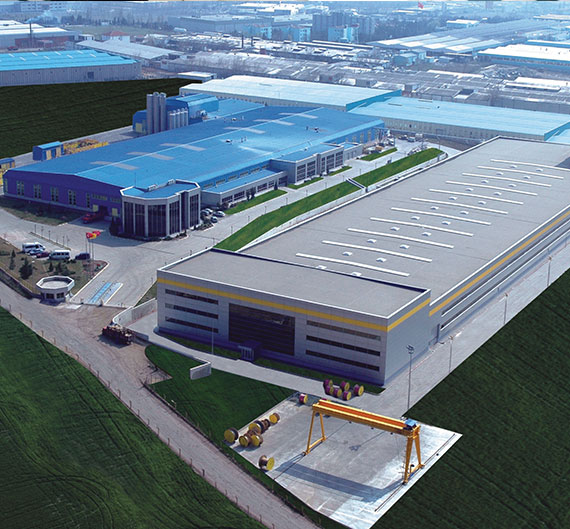 Öznur Cable

ÖZNUR CABLE, one of the leading cable companies of TURKEY, established in Istanbul with %100 domestic capital at the year of 1989.
With modern information processing infrastructure and automation technology, ÖZNUR CABLE have production capacity of 40,000 tons of natural and colored PVC granules, 70,000 tons of 8 mm electrolytic copper wire rod and using capacity of 6,000 tons of XLPE and 10,000 tons of HFFR material.As an indicator of the importance of quality, human and environment, ÖZNUR CABLE, has accepted "Quality Management System TS-ISO-EN 9000", Environmental Management System TS-ISO-EN 14000", "OHSAS 18001 Occupational Health and Safety" and "ISO / IEC 27001 Information Security Management System" as its main principles.
Acting on the basis of these principles, ÖZNUR CABLE provides reliable and superior quality products to the consumers and ensures continuous customer satisfaction.
ÖZNUR CABLE, who aims at sustainability in growth, realized the first investment on 110.000 m² open space area in Çerkezköy in 1999 by establishing a factory which produces 0,6 / 1 kV PVC insulated cables with 20.000 m² closed area.
With its vision of quality and developments in the sector closely, ÖZNUR CABLE has established another 20.000 m² closed area facility in 2006. This facility is capable of producing 154 KV high voltage cables in the CV line which has a continuous vulcanization system to produce XLPE insulated medium voltage cable between 3,6 / 6kV and 20,3 / 35kV.
ÖZNUR CABLE, aiming to grow continuously, established another investment for 8 mm SCR-2000 electrolytic copper wire rod facility with an annual capacity of 70.000 tons, supplied from the SOUTHWIRE company of USA with 5000 m² closed area in 2007. This annual production capacity of 70.000 tons has made ÖZNUR CABLE the leading producer of Electrolytic copper wire rod in the cable industry.
ÖZNUR CABLE, which has adopted the philosophy of continuous investment philosophy as its principle, produces fire-safe HFFR cables which are XLPE insulated, HFFR Filled and Outer Sheathed Halogen Free products.
ÖZNUR CABLE has established its 4th facility in 2015 on 25.000 m² closed area which has Aluminum wire drawing and thinning lines, Aluminum conductor drawing lines, second continuous vulcanization CV line for XLPE insulated medium voltage cables, AER cable production line and low voltage and medium voltage cables with Aluminum conductor.
With the completion of the installation of the aluminum wire rod production line and HFFR granule production line of 2,000 kg / hour capacity which is for the increasing demand of HFFR cables, ÖZNUR CABLE will continue to invest in the way to become a modern integrated plant.
Today ÖZNUR CABLE, which owns the state-of-the-art cable factory equipped with the most modern production lines and quality control test laboratories, who has SCR Electrolytic 8 mm copper wire rod production plant, XLPE insulated CV Line capable of 154 KV high voltage cables, Copper and Aluminum wire drawing and thinning lines, Conductor and Vortex lines, 0,6 / 1 kV PVC, XLPE, HFFR Insulated and Sheated cable extrusion lines, PVC granule production, packaging and packaging machines continues to perform quality checks with advanced testing laboratories serving in international quality standards.
ÖZNUR CABLE has adopted customer satisfaction as a principle since its establishment. In this context, TSE, VDE, IEC, standard products as well as products, including customized requests for custom cable production also responds to requests. ÖZNUR CABLE, has built on 70.000 m² closed area. Upon completion of the investments, it is going to be one of Turkey's largest cable manufacturer with annual production capacity of 70,000 tons of copper wire rod and wire drawing capacity of 15,000 tons of aluminum rod.
ÖZNUR CABLE continues to step forward towards becoming a world brand.